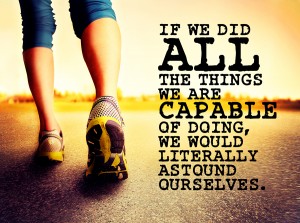 June 2 marks the one year anniversary since I started running again. The last time I had run before was 33 years ago back in 9th grade. I was an avid runner all the way to that point in my life and had quit simply because I did not make the cross country team one year.
I had forgotten all the reasons I ran and why it was so enjoyable. But, let's start again now shall we? Beginning last year about the last week of May, I was feeling low for many reasons (turning 50 that year amongst them) but the main one was simply depression and lack of motivation in everything. My office is above a Gym and I have been there for 3 years and on a daily basis as I headed up to my office I would see all kinds of people motivated to improve themselves and thought I can do that.
My business had been pretty good as of late and I had some extra money so I hired a personal trainer to get me started on the right path. She helped me put together an exercise training plan that at the time included swimming, hiking, cycling, cross-training and running. Running was the last thing in the first week of the initial plan. The goal here was to find out what would resonate with me. While I have always enjoyed hiking most of my life I could not see myself doing it on a regular 3 time a week basis the same with swimming and cycling. While I did try these to see how they fit when the day came for running I was so unsure if it would be for me.
I had invested in a quality pair of shoes getting properly fitted for them (I cannot stress this enough if you are just starting out get properly fitted for your shoes and expect to pay a premium for them). My goal for this run was simply to complete 40 minutes of run/walk. Well I discovered in that first kilometer something I had forgotten. It was the joy of running and the endorphin dump was amazing, I was hooked. The high lasted for hours after and how did that run go well pretty poor on a time scale I ran 5.28km that day it took 46min10sec with an average pace of 8:45 per KM, but it felt so good and I was feeling so good.
The best part was I had nowhere to go but up with my times. And that I have done with some weeks going back a bit but always moving forward. I had found my antidepressant and it is running and the endorphins it drops. While I still do some hiking, cycling and swimming nothing gives me the satisfaction like running does.
I am now one year into my running and I have run several 5k, 8k and 10k races with varying results and they were all fun. I have broken the 30min 5k barrier twice now. And the original course I ran on that first day I have managed to complete in just over 30min (it has a few hills). I have dropped from 8:45perKM down to 6:12perKM average unless I push hard.
So how has running benefited me aside from the endorphins? For starters I have lost some weight while I was never really over weight I was getting fat and carrying around a spare tire in the middle. I have since dropped from a 33in waist to a 29in waist back to what I was in college. Not sure of actual weight since I do not own a scale nor have ever but a trip to my DR. for annual physical showed I had dropped 45lb from the previous year.
An added bonus that was completely unexpected was I gained ¾ inch in height. My chiropractor explained it to me that since I had started running and exercising it was strengthening my back muscled and pulling my spine straighter causing me to stand taller ect.. Additional benefits have included the ability to concentrate on work better, sleep better, little to no pain in my back anymore, better sex. I look better as these before and after pictures will show.
And now on the date of my 1yr anniversary of running I embark on something I thought I would never do and that is train to run a half-marathon. I have committed myself to running the Victoria Half-marathon on October and would like a good time so I am doing a proper training program for it. While I feel I could run a half now and my longest distance is currently 16km which is only 5.1km shy of the 21.1km of a half. I want to do well and not injure myself on the journey.
Going forward I will chronicle my journey to a half marathon with weekly updates here. Since Sundays are my long run days for my training program I will post after them. Since one of the many benefits of running for 1 to 2 hrs is allot of time to think.
Yes, I have also become one of those runners. Something I never thought I would become talking about it planning trips around a race, looking at benefits of food. How to properly training for a race how do hill repeats and including hills in your runs help you out (hint they are speed work disguised). And sharing all this information that I find with whoever will listen and on social media so those that don't care can see it also.
I have also started a new web project based on this and other things it is called "The Fit You – Community Website Network" and can be found at http://TheFitYou.ca . Will I become more annoying in the coming Months? Well I do believe so at least for a few people for others they may simply enjoy following my journey.