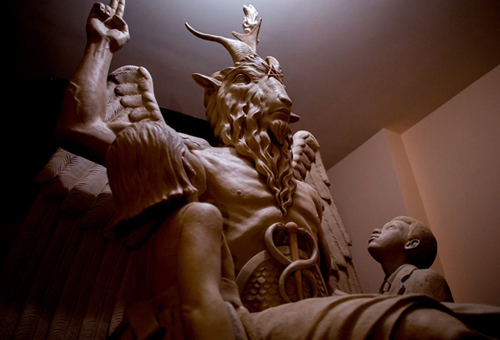 Satanists seize Christian Rights redefined religious freedom bills and run LGBTQ Nation

It will be no small irony if Satanists turn out to be heroes of religious freedom in our time.

Christian Right leaders, who claim that it is a violation of their religious freedom to extend a variety of civil rights—including marriage equality to LGBTQ people — are not victims of creeping secularism (as they would have us believe). But their unleashing of the notion that religious individuals, nonprofits, and business owners are entitled to exemptions from the law may have some remarkably unintended consequences — and groups including some Satanists are capitalizing on the Christian Right's own false framework.

These conservative religious leaders' attempt to advance a religious supremacist political agenda under the rubric of religious freedom was bound to get tangled up in contradictions.

Since the Supreme Court decision in Hobby Lobby v. Burwell, the notion of religious exemptions has sadly gained currency in several state legislatures.  But the Boston-based Satanic Temple, which claims to be both serious about Satanism as well as satire (the group has chapters in several states, and says it does not believe in supernaturalism and has nothing to do with the evil figure depicted in some Christian traditions), wants to show that if that door of religious exemptions is to be opened, conservative Christians are not the only ones who are going to walk through it and claim exemptions from the law for religious reasons. read the rest of this article…..